The new issue of FWD Magazine is in stores. With the extensive report on the IFA fair in Berlin, you are immediately fully informed about the latest AV and smarthome products and trends. And there is also the EISA annex. In it we tell you everything about the best audio and video products that have been awarded by EISA. Of course you will also find a wide range of reviews and firsts in this issue. According to some, active speakers with streaming built in are the future. They promise superior sound quality and ease of use. Is that right? In FWD 93 there are no less than three, and very special ones. Two firsts come from Denmark: the very affordable Argon Audio Forte MK2 and the advanced, Dirac-equipped Focus 10 from Dynaudio. The EISA Award-winning LS60 Wireless is an alternative that fleshes out the loudspeaker concept in a very idiosyncratic way. More traditional? Then you should check out the review of Rotel's Diamond series, a handsome hi-fi set that the Japanese are presenting in honor of their sixtieth birthday. Another first!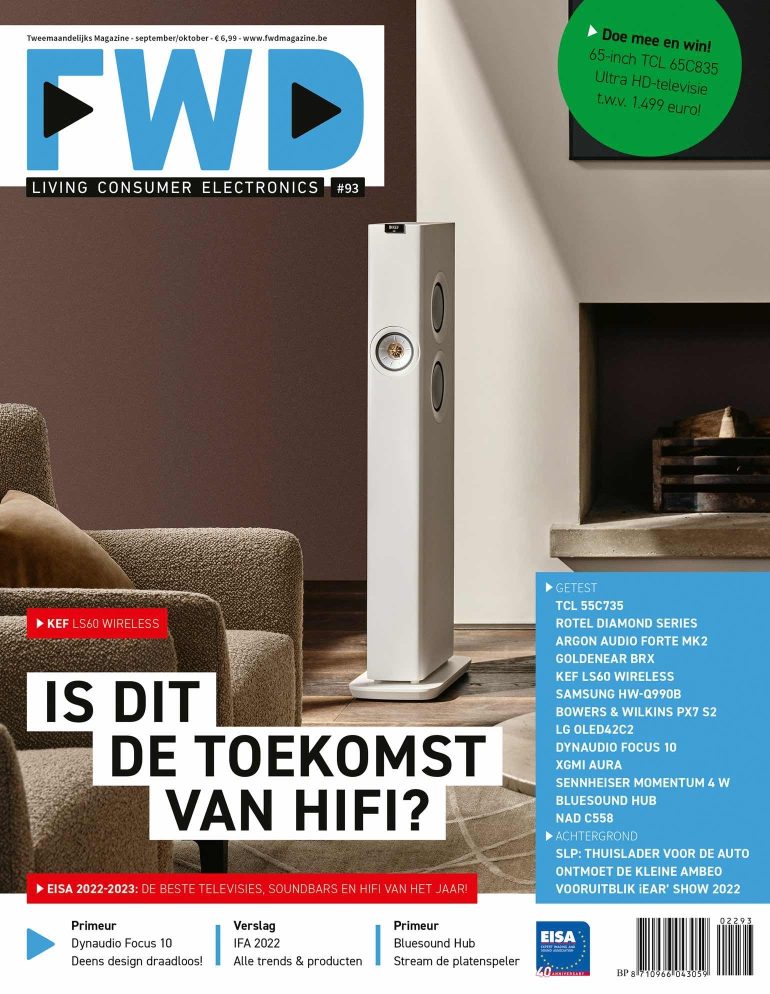 Over the summer, Sony introduced the WH-1000XM5, their latest and greatest noise-canceling headphones. Bowers & Wilkins and Sennheiser, in turn, have answers ready – and we test them in this issue of FWD Magazine. An inconspicuous but very fascinating product is the Bluesound Hub, a device with which you can easily make your record player wireless.Looking for a large new TV? Two options: read the review of the TCL55C735 or join the great competition in this issue. What can you win? A 65-inch TCL C835. Who doesn't want that? You can now really dream of OLED. In the bedroom, because for the first time LG is bringing OLED technology to a manageable 42-inch size. We test it first.
FWD Magazine: subscription and single sale
FWD Magazine 93 obviously contains much more! So go get it quickly or order it here. Would you like to be the first to receive the magazine in the future so that you can read reviews and background information in peace? Then take out a subscription and get FWD Magazine delivered to your letterbox! Or opt for a digital subscription. That way you really don't miss anything! Of course you can also buy a single number!