So many questions!
On November 20, 2022, the time has come. After four years, there is another World Cup, the period in which almost the entire country adjusts its planning, gets the appropriate clothing and attributes and cheers loudly for its favorite team. For many football fans, it is also the perfect time to get a new television. But that raises a lot of questions. Is there an ideal size? An ideal resolution? Which HDR formats should the TV support? Is a particular imaging technology preferred? How do I get the sharpest image? The list of questions is long. Anyone who enters the store well prepared will undoubtedly leave with a beautiful device. So follow our checklist.
The right size
It may sound controversial, but big is definitely better. There is nothing wrong with a 32-inch TV that is three meters away from you, but you should not expect it to bring the atmosphere of a grand football stadium to the living room. So choose a nice big size. Of course you shouldn't exaggerate. The ideal size depends on how far you sit from the screen. Measure the viewing distance (in centimeters) between the main seat and the TV screen. If you really want to feel like you're in the stadium, divide that distance by 1.2. The result is the maximum screen diagonal (in centimeters) that we recommend. Attention, that is really big, for a viewing distance of 2.6 m you then have an 85-inch screen. If you want the smallest screen that still gives a fun, immersive experience, divide the viewing distance by two. This gives you approximately a 55-inch screen for the same viewing distance of 2.6 m. As you can see, the fork is very spacious, so there is always a good solution to be found. There are also practical and aesthetic concerns. Always keep this in mind, especially if the TV is really in the living room.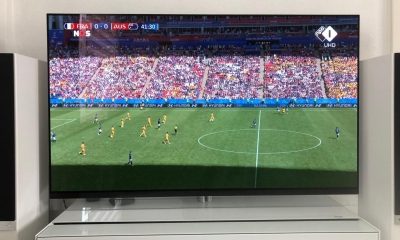 Resolution: Ultra HD 4K is ideal
The title says it all, but a word of explanation might make it even clearer. Ultra HD 4K has been the screen resolution of most televisions for several years now. The 3840 x 2160 pixels (exactly four times more than Full HD) provide sharp and detailed images. Full HD, yes, you can still find that, but only on the very small models. We strongly advise against choosing lower resolutions above 40 inches diagonally. And 8K? Indeed, major sporting events such as the World Cup or European Football Championship and Olympic Games are often recorded in 8K. But that doesn't mean they're available with us in 8K. Other 8K content is even rarer, and will remain so for quite some time. Moreover, it is more expensive, and you have very little of all that extra detail unless you opt for 75 inches or larger. The added value of an 8K device is therefore very limited.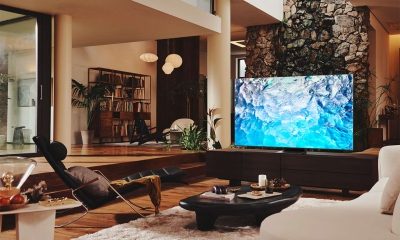 Every goal in sharp focus
Some goals are built up slowly but surely, others are scored in a brilliant flash. That is precisely why you want all the action to remain razor-sharp. Even when the camera has to pan across the field at lightning speed to follow that lightning-fast breakthrough. Therefore, choose a television with 100-120 Hz refresh rate. Because the more images per second, the less chance of a blurred ball or blurry image.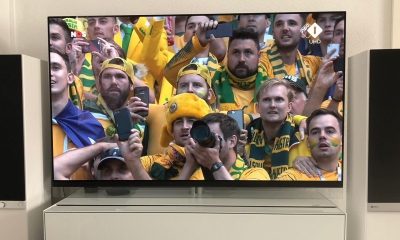 HDR and brightness
HDR (High Dynamic Range) is still not very well established when it comes to live TV. That's a shame because HDR really gives images an extra dimension and makes them much more lifelike. But for major sporting events an extra effort is made, so there is a real chance that you can receive the World Cup in HDR. Check with your TV provider whether that will be possible. But even if you can't receive the World Cup in HDR, a TV that is well equipped for HDR really does have added value. After all, for HDR we want a TV with good contrast, a wide color range and high brightness. These are properties that also benefit clear and colorful sports images. And once the World Cup is over, you can continue to enjoy your HDR TV with the huge range of HDR material that you will find on streaming services. HDR material is available in different standards. HDR10 and HLG are almost guaranteed to be present on all HDR TVs. Live TV uses HLG, so you're in the right place in that area. If you want to enjoy movies and TV series in HDR to the fullest, it is good to find a TV that supports Dolby Vision and/or HDR10+. After all, those formats deliver even better images. Dolby Vision is by far the most popular of the two.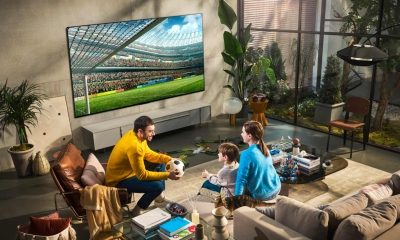 Which imaging technology do I choose?
Not all TVs use the same technology. And they also have different pros and cons. We can divide them into two broad categories. LCD and OLED. Both can be a great choice for the World Cup, but the best choice depends on how exactly you want to use the TV. We briefly go over the various advantages and disadvantages.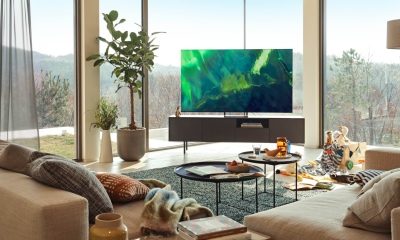 LCD
Also often referred to as LED TV or LED LCD TV, and this category also includes QLED models. The main advantage of LCD TVs is that they are available in many different prices and screen sizes. The top models also deliver the highest brightness of all TVs. Models with "Full Array Local Dimming" sometimes abbreviated as "Local Dimming" often also provide a very good contrast. QLED models use quantum dots to deliver very intense colors.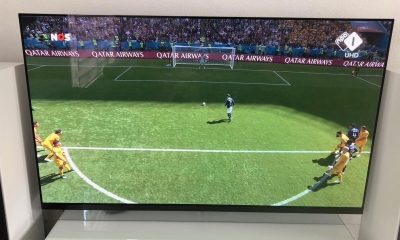 OLED
OLED TVs deliver a perfect black display and therefore also the best contrast. They have a very rich color palette and the best viewing angle. So even if you are not sitting directly in front of the TV, colors and contrast are preserved very well. The very latest technology (QD-OLED) combines quantum dots with OLED, for more brightness and even more intense colors. If you mainly look at a lot of ambient light, then a top LCD model with high brightness is the better choice. If you rather look at subdued light, an OLED or QD-OLED model will provide the best results.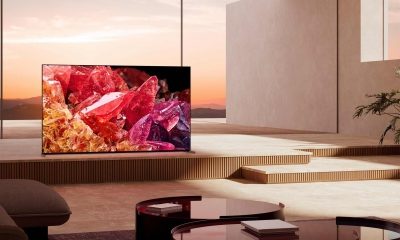 What should that cost?
As with many things, price is fairly indicative of performance. You obviously pay a premium price for the best contrast, the clearest image and the most beautiful HDR images. But the World Cup brings many opportunities. Every manufacturer will undoubtedly give strong discounts. So make a list of your favorite models now and keep an eye on the price. This article is made possible by our Channel partner, HelloTV.