Matched Betting Blog
I don't tend to do too much matched betting anymore due to time spent on bigger projects. I'm enjoying running this website, I have an e-commerce business and a new born baby to keep me plenty busy. But 3 years ago, I was well and truly immersed in the daily hustle of risk-free betting. It was my first major success in my pursuit of making money online. If you're going to be after the £1,000pm, it's definitely doable and you can probably do a lot better than I did, but you need to be switched on and organised with your spreadsheets.
In fact, there was one guy in the profit accumulator forums who was making well over £5,000pm. He pretty much did it full time. To hit these levels you will need to be doing weekly 'reloads' (that's what profit accumulator calls them). And you will need to do a few horse racing one's on a Saturday as well as hitting up a few football accumulators each weekend. If you are after a few hundred a month, you don't need to do all of this, it all depends on your goals.
Unfortunately, I couldn't take advantage of all the sign ups as I was a member of the main bookmakers already. So I had to go down the reload and accumulator route pretty early on. I signed up to profit accumulator and checked the boards for each and every reload available for that day, I learnt how to do accumulators and this was my big winner.
Matched Betting Success = Organisation
I tracked every single bet I did, the date, the event, the net profit and the odds all into 1 spreadsheet. 1 spreadsheet with a tab for each month to keep track. Once you get organised like this, you get very efficient and becomes second nature. You can check these spreadsheets out below in the next heading. So I was betting and betting, all risk free, and I never lost a £1, because I never gambled or took any risks. I just stuck to the plan and kept going, bet by bet, profit by profit. Then when a horse racing festival comes along, such as Cheltenham, you can add a few extra hundred pounds to your no risk matched betting monthly income in a short 3 day period.
My Matched Betting Spreadsheet Tracking Screenshots
Visual proof of my meticulous tracking, if you're a bit of a pessimist, you can probably go back and check all of those events, but I'd probably suggest spending your time making some money online instead ;). I detailed the date, event, odds, bookmaker and profit, you may set something up better ad more suited for yourself, but it's a good place to start.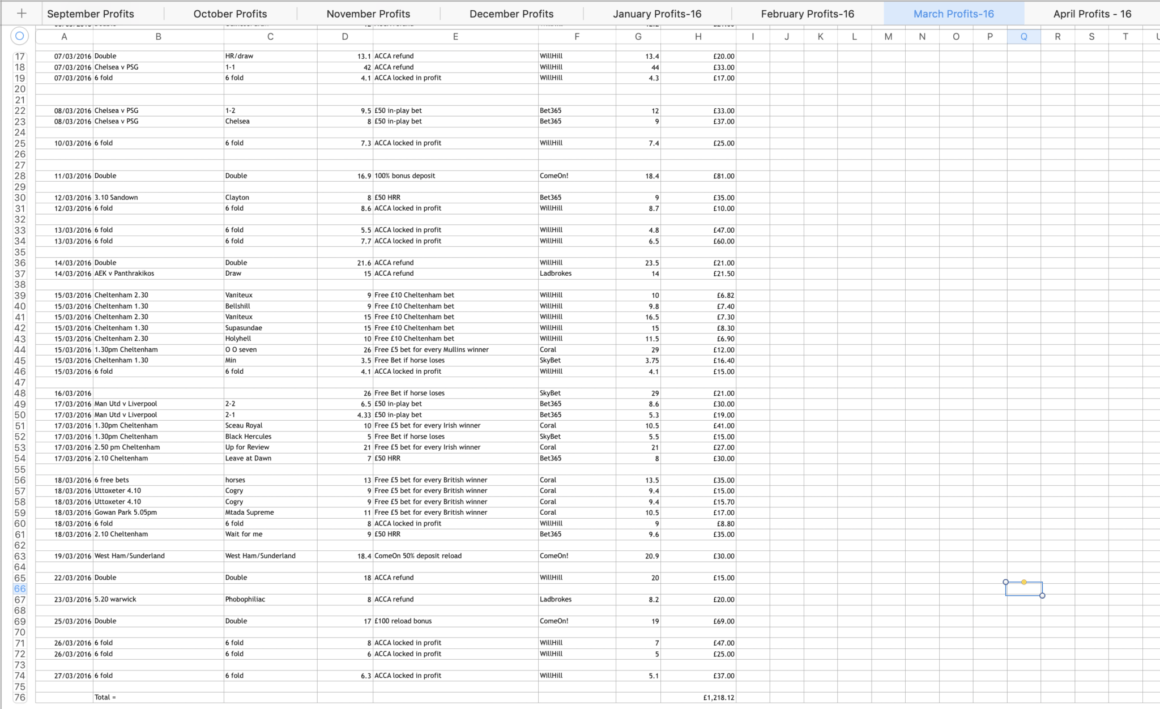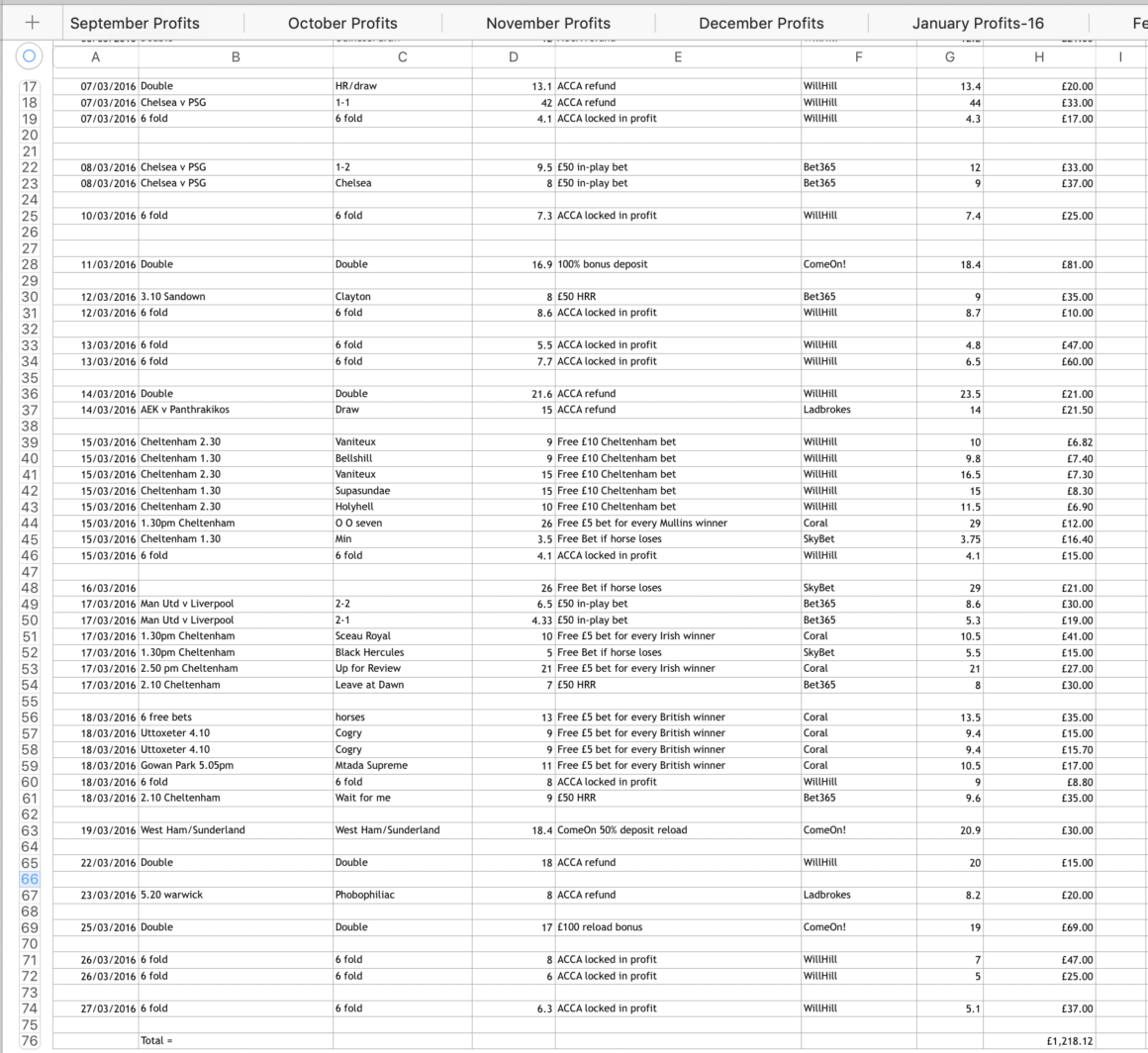 What Is Matched Betting?
As described in How To Make Money From Home 2020, matched betting is taking advantage of FREE BETS given to you by bookmakers. It allows you to make money risk free by betting for and laying (betting against) a particular outcome (win or lose) of a sporting event in order to gain a free bet. Off the back of the FREE BET you will make REAL money as shown in the step by step example below. If you are consistent and disciplined, you can do this multiple times a week and you will make a very good amount of money over time.
The key to success in this game is lots of small profits over the weeks and months and to stay disciplined. Every £30 adds up.
Your First Risk-Free Bet – Step By Step
January 1, 2019
Choose Your Bookmaker Sign Up Offer
Bet365, Ladbrokes, 188Bet, Coral, William Hill, 888Sport, BetVictor etc
January 1, 2019
January 1, 2019
Use OddsMatcher To Quickly Find Your Bet
You can definitely do this manually, but OddsMatcher can do it in a second
January 1, 2019
January 1, 2019
Place Your Bet With The Bookies
Find a low bet around 1.5 for your qualifying bet as it will reduce your liability on the lay bet
January 1, 2019
January 1, 2019
Use A Matched Betting Calculator
Use this matched betting calculator to calculate how much to lay and how much you will win/lose.
January 1, 2019
January 1, 2019
Place Your Lay Bet With Your exchange
I'd go Matchbook for football and Smarkets for Horse racing. Betfair is ok but it's 5% commission.
January 1, 2019
January 1, 2019
Collect Your Free Bet
Wait for bets to settle and claim your free bet
January 1, 2019
January 1, 2019
Place Your Free Bet
Repeat process but this time on the calculator you should choose 'Free Bet (SNR)'
January 1, 2019
January 1, 2019
Lay Your Free Bet
Lay your bet at what the calculator tells you to
January 1, 2019
January 1, 2019
Calculate Your Profit ££££
Keep going, the more you do this, the faster you will become. I used to back and lay bets in seconds
January 1, 2019
Ok, so this will be a live (at the time of writing) step by step guide to your first profit with Bet365 and Matchbook.
Step 1
Sign up with Bet365 and Matchbook. You may need driver's license to prove your'e over 18.
Step 2 – Find your bet
Have Bet365 and Matchbook open at the same time on different tabs. Have a look at what football matches are up and coming and pick one. So for this example I will choose Liverpool v Barcelona. Liverpool to win is 2.5 on Bet365. If I then have a look at Matchbook, I need to get the odds close to limit how much money we will lose on the qualifying bet. On matchbook the odds are 2.61. This is close enough. So now we enter these figures into the matched betting calculator.
Top Tip When placing your 'qualifying bet' keep odds low. Around 1.5. When placing your 'free bet' keep the odds high. Around 5.00-6.00.
Step 3 – Matched betting calculator
You can use this matched betting calculator here. You can see I have put Bet Type – Normal (always pick this for qualifying bets) and entered £100 in stake. I have entered the odds and 1% commission which is Matchbook's rate.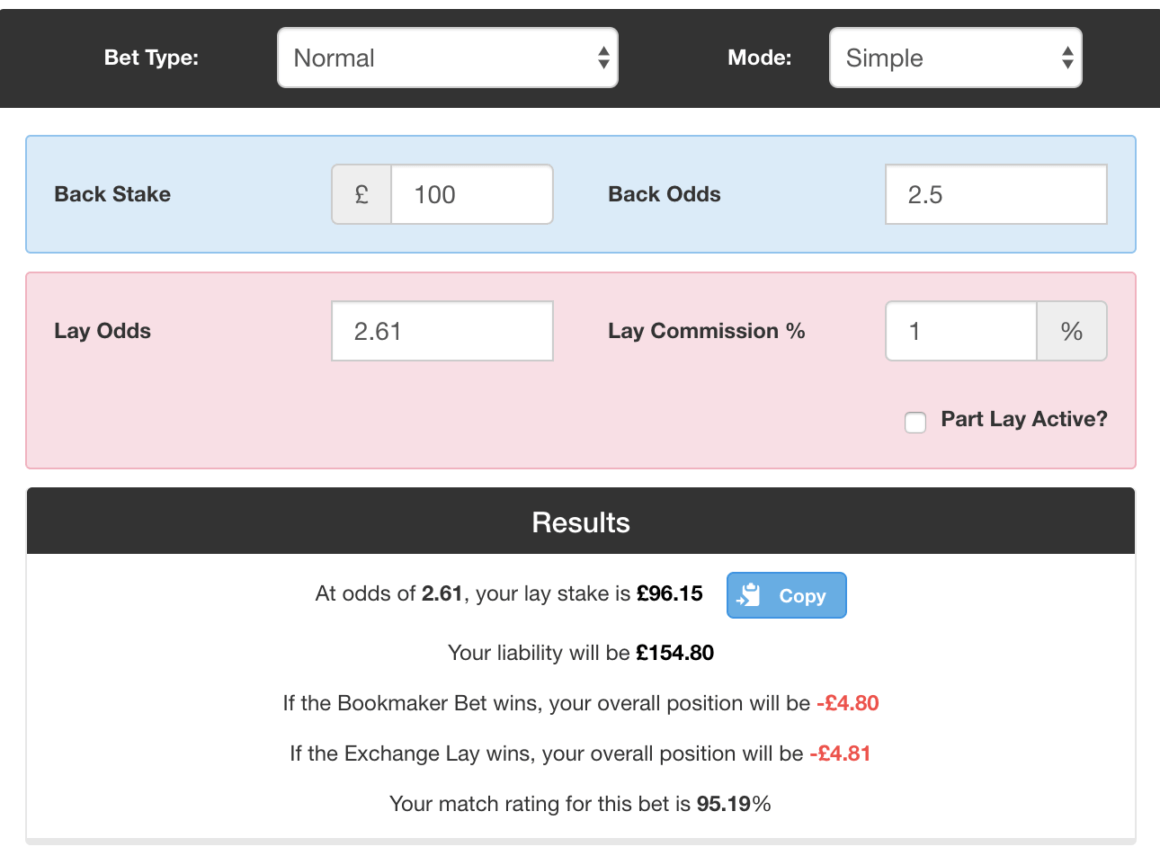 So you can see, we will need to put £154.80 on LAY (against) Liverpool and overall after the game, whatever the result, we will lose £4.80. But don't worry, we will get a free £100 bet after.
Step 4 – Place qualifying bet with Bet365
Place your qualifying bet with Bet365. The free bet offer is £100, so I would recommend taking the full offer. Please note the odds must be above 1.2 for the qualifying bet. These are Bet365's terms and conditions, each bookmaker has their own and they range from 1.2-1.5. I would also suggest placing your qualifying bet on football. It's more stable and you can get low odds.
So we place £100 on Liverpool to win. The odds are 2.5. Now this is quite high for a qualifying bet, the lower you can get to 1.2 the less money you will have to put down on the exchange website (Matchbook or Smarkets). But as this game is available, I just chose it for speed.
Step 3 – Lay qualifying bet (use a bet calculator)
So now, we have placed a bet on Bet365 at 2.5 for Liverpool to win. We now need to head over to Matchbook and place a bet for them to not win. Please note Lay means bet against. Make sure it is a Lay bet when you place it.  The calculator tells us to place a stake of £96.15. However, we will need £154.80 to fund the bet as this is our 'liability'. Follow the instructions and you can't go wrong. So I place that bet and overall whether Liverpool win, lose or draw we will lose £4.80.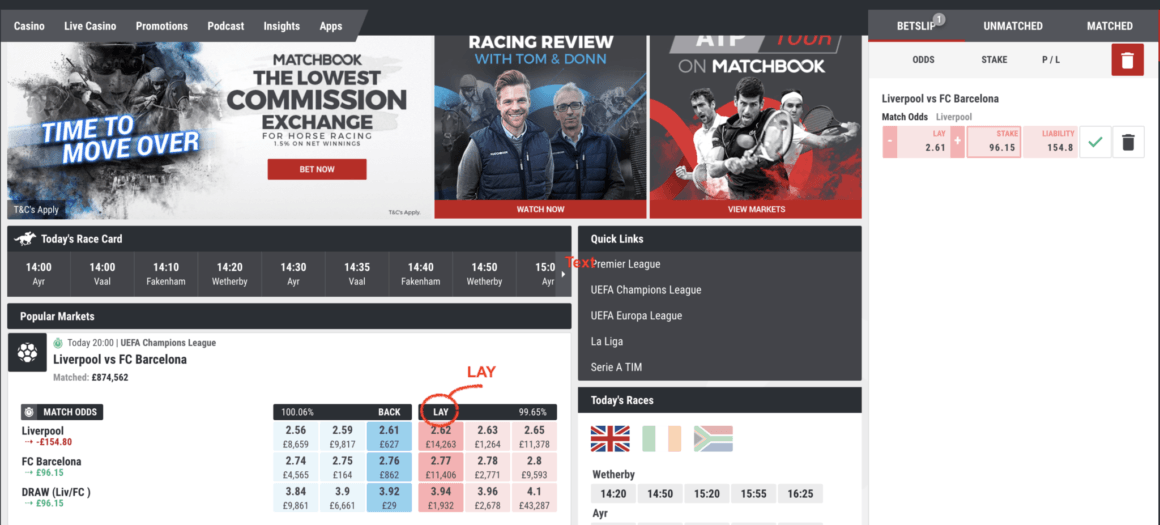 Step 4 – Place Free Bet
After bets have finished, you will receive your free bet over at Bet365. It should be £100 and you will be minus £4.80 at the moment from your qualifying bet. So now we are going to place the free £100, this is where we make the real money.
We will want to find good odds of around 5/6.00. If you want speed, you can use OddsMatcher. I used to use this, if you are doing this multiple times, this software will find the bets for you. You don't have to look yourself, it was an invaluable tool in my arsenal when I was making £1,000pm. You can sign up for a free trial to check it out first and then I believe there is a monthly membership. But if you're making £500+pm then it's well worth the £17.99pm.
So anyway, I'm going to do this manually. I'm going to pick a horse. I pick Wild Sam, racing at Ayre 2.30. His odds are 8.4. As pictured below.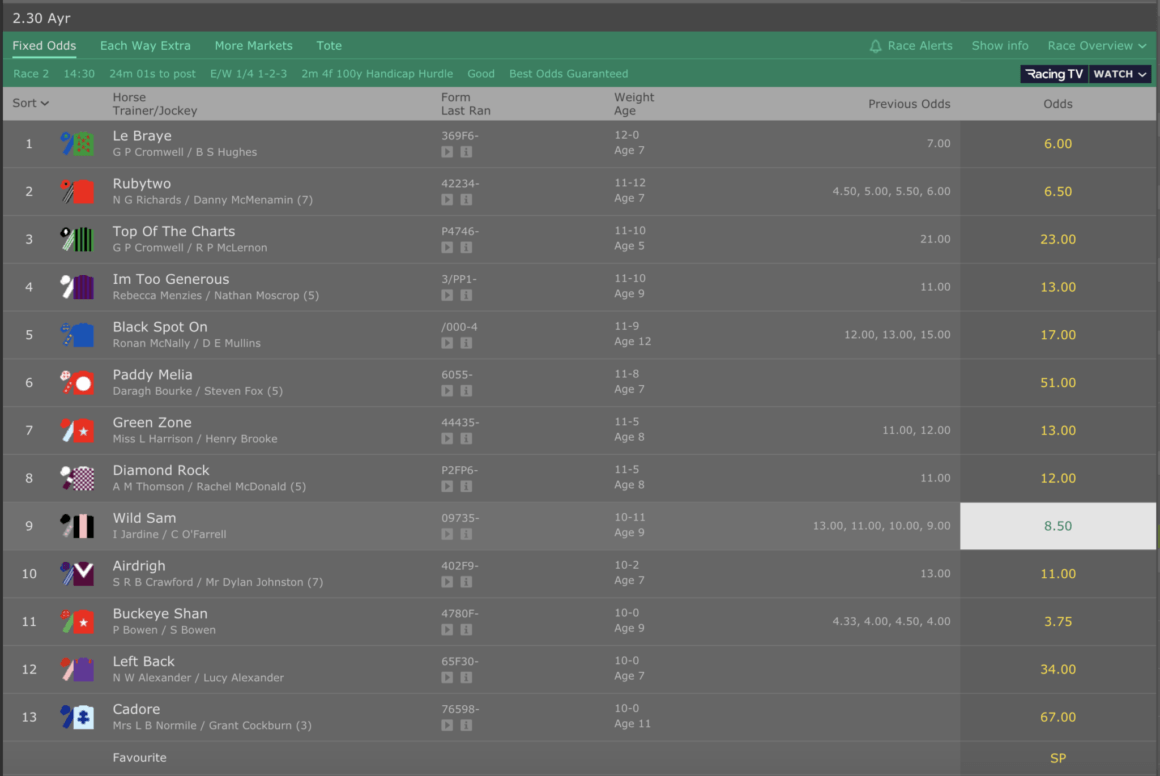 I head over to Smarkets, it is best for horse racing. It is an exchange like Matchbook but fast and has lots of markets for horse racing. Their commission is 2%. So now I find the race Ayre 2.30 and the horse Wild Sam. Excellent! Wild Sam's Lay odds are 8.4!. This is fantastic, high odds and the lay odds are below the bookmakers odds. This means we're going to make a great profit.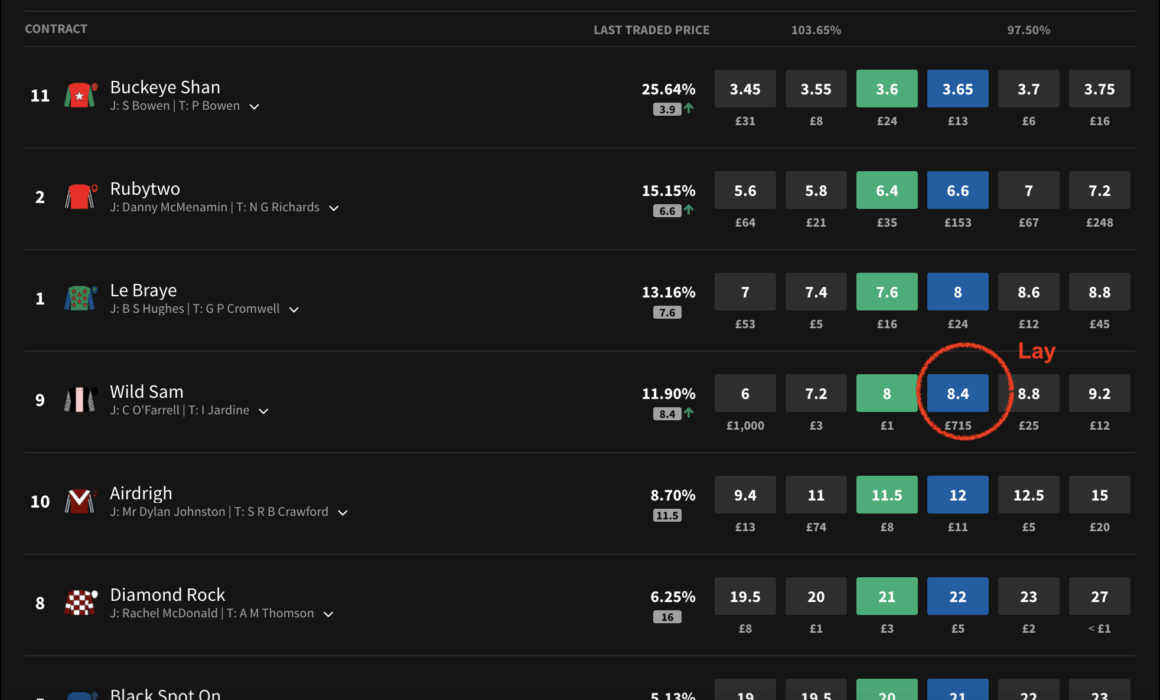 Free matched betting calculator
Let's enter into the matched betting calculator and see what we get. Because this is the free bet, make sure you select Free Bet (SNR). Then enter the numbers.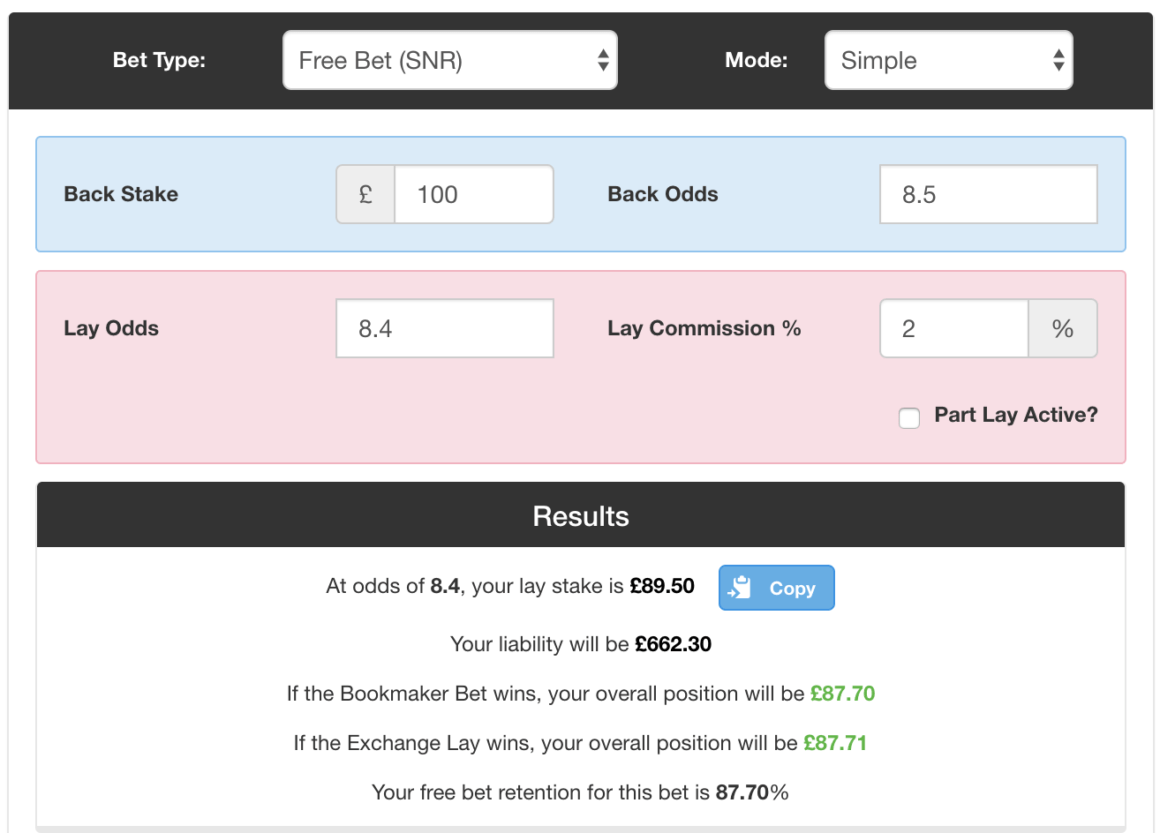 Wowsers! We will make £87.71 whether the horse wins or loses. Minus our original loss of £4.80. Had you placed this bet your total net profit would be £82.91 and that's risk free, pretty cool hey. 1 bet, no risk and you have yourself a cool £82.91. So let's quickly place that lay bet so the odds don't change…
So now your'e in profit, you go on to the next bookmaker and the next and the next. Rinse and repeat ad once you have finished all your sign up bets, you will want to get more advanced. Reloads, accumulators, casino free bets etc. All of that can be explained in a step by step process over at Profit Accumulator. So there you have it. It's as simple as that. If you have any questions about the process, just drop a comment below.
Matched betting free bets
There are lots of places where you can actually get free bets doing matched betting. Usually you need to register yourself first and do a small deposit. After that, you get some free money to do the match betting.
Matched Betting FAQ's
Does Matched Betting Actually Work?
100%. It really is free money. Even if you only use 'sign up bets' with every bookmaker. You can make £1,000, in cash, tax free. If you want to pursue this as I did, check below for how often I was putting bets on and how much each one was making. It's surprising how £30's every few days quickly add up toward £1,000 a month.
Is Matched Betting Illegal?
Absolutely not. In fact the bookmakers themselves say they have no issue with the use of free bets, hence why they always have them on offer. This is not a loophole or card counting in a casino. It's simply placing a free bet. Also the profits are tax free as its technically arisen from gambling so need to for accounts or declaration of income. So of course, the only illegal thing is if you are under the legal age of gambling in your country, which in the UK is 18 years old. And obviously sports book betting is dependent on your country.
Do I need to sign up to Profit Accumulator and OddsMatcher?
No you do not. You can make a great start by going through our FREE BETS page. After that, you will get 5x more bets in by using the above mentioned tools and Profit Accumulator keeps you up to date with all the weekly 'reloads' one off free bets and special offers as well as has a great forum.
If Matched Betting Is So Easy Why Doesn't Everyone Do It?
Well…..I don't know. Anyone over 18 years old can do it. Some people do and some people don't. Some people are scared of trying new things and have a fear of losing money and others just do it. My personal experience is a net positive of £13,000. I guess for some people it sounds too good to be true.
BONUS – Advanced strategies – Accumulators
As you can see from my screenshots, there are lots of 'ACCA' entries. These really are a great way to stack the money fast and hard. It is slightly more advanced than betting for and against one outcome as there will be usually 5 different matches/games. For example if you did a football accumulator. You would lay each time a team plays. As soon as one loses, the bet is over and you will make your profit. It is all done by spreadsheet, to access these spreadsheets you will need to be a member of profit accumulator. Below is a screenshot of an old bet of mine, using the acca insurance strategy.
My personal advice on Matched Betting
Get good at matched betting, never gamble, stack all of your money and then withdraw from all of your accounts. When you have a lump of £10,000 go on the offence. You should be saving any way and I recommend to strive for £500pm. Check out this saving blog for the power of what disciplined saving can do. Stick £10,000 into something and grow it as much as you can, think about longevity and be patient.