When you're about to have a baby, you're entitled to receive any of the following maternity benefits, depending on your eligibility and your contract with the employer: Statutory Maternity Pay, Contractual Maternity Pay, and Maternity Allowance.
We'll discuss in detail what Maternity Allowance is and how you can still earn money while being an awesome mum.
What Is Maternity Allowance?
Maternity allowance is a government-granted benefit that pregnant women like you can receive when you don't qualify for Statutory Maternity Pay.
Maternity Pay gives enough income while you can't come to the office to work. This is how much you can get from a Maternity Allowance, all free from taxes:
£27 a week for 14 weeks
£27 a week for 39 weeks
Up to 90% of your average weekly pre-tax earnings or a maximum of £148.68 a week for 39 weeks
Additionally, you'll automatically get Class 1 National Insurance credits while receiving your Maternity Pay.
You should tell your employer about the pregnancy at least 15 weeks before the baby's due date. Notify them of your plans to take maternity leave and ask for the things you need to do in filing the leave.
Maternity Pay Eligibility
Eligibility requirements vary according to your employment status.
Employed or self-employed
You can receive Maternity Allowance for up to 39 weeks if you satisfy one of the following conditions:
Employed but unable to claim Statutory Maternity Pay
Self-employed paying Class 2 National Insurance contributions
Stopped working recently
Counting backward to 66 weeks before the baby's due, you must also satisfy the following criteria to receive full Maternity Allowance:
You must have been employed or self-employed for at least 26 weeks;
Within this timeframe, you must have worked for at least 13 weeks and have been earning at least £30 a week;
You also must have been paying your Class 2 NI contributions for at least 13 weeks of the 66 weeks described.
The counting of the weeks when you worked don't have to be continuous. For example, you worked this week, and then the following week, and then four weeks after that. All the three weeks are counted in satisfying the 13-week minimum requirement to receive Maternity Pay.
The Department for Work and Pensions (DWP) will check your Class 2 contributions when you claim the Maternity Pay. If you haven't paid the minimum contribution amount required, you can still make extra contributions to receive the full allowance. The HM Revenue and Customs (HMRC) can assist you with full details on this.
In case you're not employed in any way, you might still be able to receive a Maternity Pay of £27 a week for 14 weeks, so long as you satisfy the following conditions:
Helping your partner with their business without pay
Working for a business but remains unpaid
Married or have a civil partner who has HMRC and pays Class 2 National Insurance
Not eligible to receive Statutory Maternity Pay or the higher amount provided by Maternity Pay
You can claim your Maternity Pay starting from the 26th week of your pregnancy. For special cases, you can receive your first payment as early as 11 weeks before your due.
Unqualified for Maternity Allowance
In case you don't qualify to receive Maternity Allowance, you can still apply for Income Support.
Income Support can be given 11 weeks before your due up to the following 15 weeks after giving birth if your situation falls under these categories:
You're at least 16 years old
You didn't qualify for either Statutory Maternity Pay or Maternity Allowance
You either belong to a low-income bracket or have no income at all
You're not working or you're working for less than 16 hours a week
Your total savings amount to less than £16,000
If you have a partner, their savings will also be computed, as well as their work hours every week in determining your eligibility for Income Support.
If you're a single parent, you can receive Income Support until your child reaches the age of 5 years old. As an additional benefit, you'll also receive Child Benefit and Child Tax Credit.
In the advent that you lose the baby due to circumstances such as being stillborn on the 24th month of your pregnancy, you may still qualify for Maternity Pay.
Any change in the circumstances of your pregnancy must be reported to the nearest Jobcentre Plus since it can affect the allowance you receive.
The UK government provides a calculator that can help determine your eligibility to receive maternity allowance.
How To Claim For Maternity Allowance
To claim your maternity allowance, you need to download, fill out, and print the MA1 claim form.
Along with the form, you must include the following documents:
Proof of income, such as payslips or a Certificate of Small Earnings Exemption.
Proof of your pregnancy and the baby's due date, such as your MATB1 certificate or a letter written by your doctor or midwife.
SMP1 form is you're not eligible to receive Statutory Maternity Pay.
If you're requesting for Income Support, you need documents proving your partner's income from self-employment or a business and your involvement in either.
Once completed, send it to the address indicated in the form. Expect to receive a decision about your claim within 40 working days.
When you're approved to receive Maternity Allowance, you'll be sent with a form to confirm your entitlement and your last day at work before you take maternity leave.
The earliest period you can claim your Maternity Allowance is on the 15th week before your baby's due date. Payments can be received starting 11 weeks before the due date.
All benefits are paid directly into the bank account you stated on the form.
Maternity Allowance Limitations
While receiving Maternity Allowance, you're entitled only up to 10 "keeping in touch" (KIT) days. This means you can work for up to 10 days, and this applies to both employed and self-employed individuals. If you exceed this limit, you may be disqualified from receiving Maternity Pay.
KIT is optional, though, and its implementation, along with the benefits associated, can be discussed between you and your employer. The type of tasks you can do during your KIT days should also be discussed before you come to work.
Ways To Boost Your Income While On Maternity Leave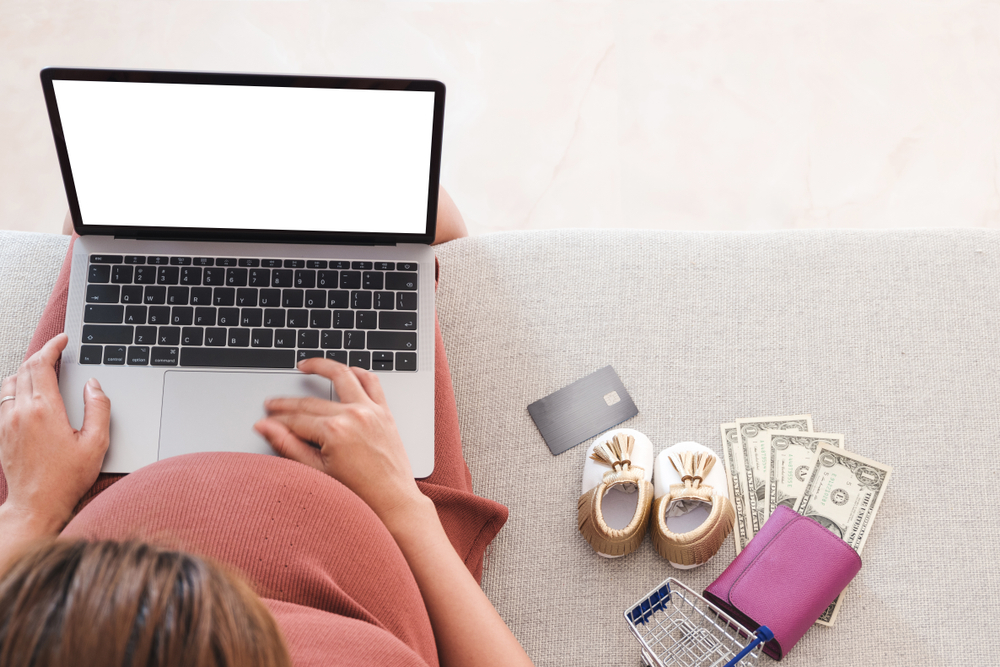 Being on Maternity Leave doesn't mean you can't earn more than the allowance the government provides. There are various methods for gaining extra cash without necessarily violating the eligibility requirements. You may even want to carry on making money online as your baby gets older. So let's take a look at some ways of making money with your laptop.
1. Start A Blog
Blogging can be a good source of passive income once you've established a solid audience. But this doesn't come easy. You must build it up first to the point that it can make money for you without doing anything.
The best time to create a passive income stream is during your maternity leave while waiting for your baby's due. Once you have your baby, you'd be too busy to focus on other things.
Don't know what topic to write about? Why not start with what you're going through right now? Focus on your journey during maternity period which all mums can relate to. The market for a mother's journey is huge. What was your pram like? Which car seat is best? How did you get your baby into a sleeping routine?
There are multiple ways to earn money from blogging. One is by putting ads on your blog page. Another is by promoting affiliate products through embedded links on your site. Lastly, there are sponsored posts where you get paid for writing promotional content.
Creating a blog can be both enjoyable and profitable. When you're having fun with what you're writing, you won't consider it as work. Your thoughts will also flow seamlessly, and you wouldn't have a hard time thinking about what to write next.
Starting a blog is super easy, you can be up and running in minutes. For a step by step guide click below:
Blogs are a good source of passive income because they remain on the internet if you maintain them. This means that even old posts you've created years ago can still rake in profits if users still find them relevant and informative.
There's nothing more fulfilling than knowing you have a passive income that can back your expenses. Whether you're planning to get pregnant or not, consider writing a blog and utilise it as an additional income stream.
2. Take Online Surveys
Taking online surveys is one of the most popular jobs for mums on maternity leave. Surveys offer great flexibility and convenience as you can take them anytime you want either from your desktop, laptop, or mobile phone.
Websites offering online surveys won't dramatically increase your income, but they're better than nothing. Profits in taking paid surveys aren't anywhere near an office salary, but the extra cash you'll make can help pay bills and can meet the gap in your maternity package.
Oftentimes, you'll be given shopping vouchers that will help you save on expenses. Sometimes, you can directly earn cash equivalent to the number of surveys completed.
Toluna, YouGov, Pinecone Research, Swagbucks and Inbox Pounds are few of the most popular sites for taking online surveys.
3. Sell Items Online
Rummage through your belongings and see what you can sell to get extra cash. Clothes, appliances, cookware, shoes, or maybe kids' toys that are old but still in good condition can be sold. Your unwanted items might be exactly what others are looking for, so why not monetize this opportunity to declutter your home.
Try also asking your friends or families for items they want to dispose of. These can improve your stock without the added cost.
An old-school garage sale will do the trick but posting in an online marketplace will give you a wider audience reach. eBay, Facebook, Shopify and even Facebook Marketplace are some of the frequently used platforms for selling brand new and second-hand items.
4. Monetise Your Hobbies
Are you confident in your baking skills? How about your drawing or painting techniques? These simple hobbies can potentially earn you a good amount of cash.
Baking, crafting jewellery, painting, knitting, and anything handmade and homemade can be transformed into a profitable venture. Many people fancy the uniqueness of handcrafted products because they provide the exclusivity that mainstream brands rarely deliver.
Start selling to your friends or family and network from there. Just make sure you know about the possible tax implications once you start earning serious cash.
Etsy is a great website to sell original items produced by your creative juices. Once you've put it out there, it can sell multiple times with little to no effort on your side.
5. Create A Dropshipping Business
The idea behind a dropshipping business is to sell merchandise without holding to an inventory of the items. Basically, you act as the middleman between your supplier and the customer.
When customers purchase from your website, you forward the order to your supplier and pay for the item at a wholesale price. The merchandise is then shipped by the supplier to the customer under your business name and you earn the profit margin.
Neither will you have to maintain a warehouse for storing the items nor create the merchandise yourself. All you need to do is promote the product in any way you can to invite customers to buy through your channel.
Marketing your products on social media is one of the most effective ways to catch customer attention. You can also combine a dropshipping business with writing a blog and reinforce marketability with credible reviews.
The barrier for entry to this kind of business is low but this has made the market highly competitive. But like blogging, once you've captured loyal customers, expect recurring income to start pouring in.
6. Try Matched Betting
Matched betting is a risk-free system where you bet on both outcomes to get a guaranteed win. This method of earning is completely legal, and all profits obtained are tax-free. If you haven't already read it, check out How I Made £13,000+ Matched Betting here.
What makes matched betting an attractive way to earn money is the sign-up bonus bookmakers offer. You can use this to make more bets that will compound your money.
There are tools and websites where you can place your bets and study how the system works. It's not that complicated once you learn the concept and the mechanics of the game. How to get started? 1. Read our guide as highlighted above 2. Use our matched betting calculator and 3. visit our FREE BETS page. Once you have used all the sign up offer, you can get more advanced. That's when you may want to join Profit Accumulator. This is probably the most popular matched betting site in the UK, and they have comprehensive training videos to get you started with the system as well as weekly offers, after your sign ups.
7. Take Freelance Work Online
Being an online tutor is one of the most profitable jobs you can do while on maternity leave. Teaching students is also another way to get you out of boredom since you'll get to talk to other people when you're home alone.
The easy part of being an online tutor is the requirements. All you need to be is a fluent English speaker (which you already are) and a stable internet connection.
The demand for English-speaking tutors is always high, so you'll never run out of opportunities in this area. Oftentimes, you'll be handling students of varying ages from Asian countries.
Course Hero and EF (Education First) are the best-paying online platforms where you can look for a tutoring job. You can earn an average of £240 a week teaching various subjects and conducting English classes.
Transcription is another popular job online where you listen to an audio or video recording and type out what you hear. With a computer, fast typing skills, and a few minutes a day, you can earn extra income through this kind of work.
CrowdSurf is a good place to start for mums like you. They offer tasks that are split into smaller ones that will take only a few minutes to complete. This gives you the flexibility to log in according to your availability and choose how many tasks you can complete for the day.
This kind of task won't earn you large sums of money, but it can be a sustainable job when you seriously take it as a freelancing career.
If you have programming, editing, graphic design, writing, or any other marketable skill, you can take on more high-paying jobs offered in freelancing platforms like Fiverr, Upwork, or Guru. Your earnings will completely depend on your skill level and the amount of work you're able to accomplish.
8. Look For Short-Term Jobs In Your Area
One-off jobs in your area provide convenient options to earn extra cash during your free time.
RedWigWam is a platform designed for busy mums like you who need short-term opportunities that are both flexible and accessible. You can match your skills, time, and interest with the jobs offered on the platform, allowing you to choose how much effort you dedicate to earn that extra money.
Examples of roles offered are product promotions in the supermarket, telephone jobs, delivery tasks, grocery shopping, admin assistant, and mystery shopping.
Registration on the platform is free and you won't be obliged to accept the work offer; it's up to you what and when to do the job. The pay is given within 24 hours after the task is completed.
9. Become A Virtual Assistant
Virtual assistants are very popular nowadays because of their cost-effectiveness to businesses and convenience to freelancers. Tasks assigned to VAs range from answering emails, blog comments, organizing social media posts, and scheduling events to graphic design, proofreading, bookkeeping, and research.
Being a virtual assistant can be done part-time or full-time. It pays well, especially if you have an established client with an international market.
Are you allowed to work while on maternity leave? If you're employed and on maternity leave, it's best to check your contract to see if there are limitations on working outside the office.
Conclusion
Even if you're not qualified to receive Statutory Maternity Pay, the government can provide support through Maternity Allowance. The weekly pay may not be that much, but it's better than not having money to supply your daily needs. So long as you comply with the requirements, you can receive Maternity Allowance before and after you deliver the baby.
While on leave, you can look for part-time work to recover your lost income. Some can even provide passive income that can help cover your expenses in having the baby. Try them out and see what works best for your condition and schedule.
But before taking any job, make sure you're not breaking any agreement with your employer or any requirement the government is enforcing for receiving Maternity Pay.